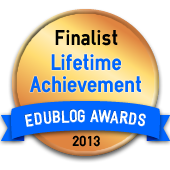 I have been nominated in two categories for the Tenth-anniversary of the International Edublogs awards – Lifetime achievement (contributions via @domaho on Twitter and eLearningIsland) and Best Teacher Blog (eLearningIsland). Thanks to all who nominated me – you can vote for at the bottom of this page. Click on the "vote up icon" (image on right) and log-in using one of your social-media applications.
What is great this year are the number of successful nominations from Ireland.
The Seomra Ranga Website (here) lists at least twenty finalists. Seomra Ranga itself received three nominations.
This bodes well for the development of blogging and related social-media activities in our  schools. There are mixed feelings about these types of awards. This tweet makes a fair point
The #eddies13 should have an award for 'Most Furious Clamour for Votes by an Educational Blogger'. — James Theobald (@JamesTheo) December 7, 2013
I have however gained some followers on Twitter from within the international educational community over the last few days since the nominations were announced.
  I am not by nature a seeker of votes, but if the process expands my reach into the that community I will live with it and engage in a bit of blatant self-promotion until voting ends on the 18th December! Equally the awards are a celebration of Edublogs itself. Remember Edublogs started the awards as a "…response to community concerns relating to how schools, districts and educational institutions were blocking access of learner and teacher blog sites for educational purposes." I engeged with two major blogging projects with my students over the past three years.
20G blogs on historical personalities which at the time (2010) won a European Schoolnet Award
Edublogs made these possible on a platform that costs little (for a Pro account), is stable and is teacher and student friendly. So well done Edublogs!