The graphic below indicates twenty uses of Twitter gathered under four headings: Think and Observe, Share and Interact, Analyze and Evaluate and Create and Design.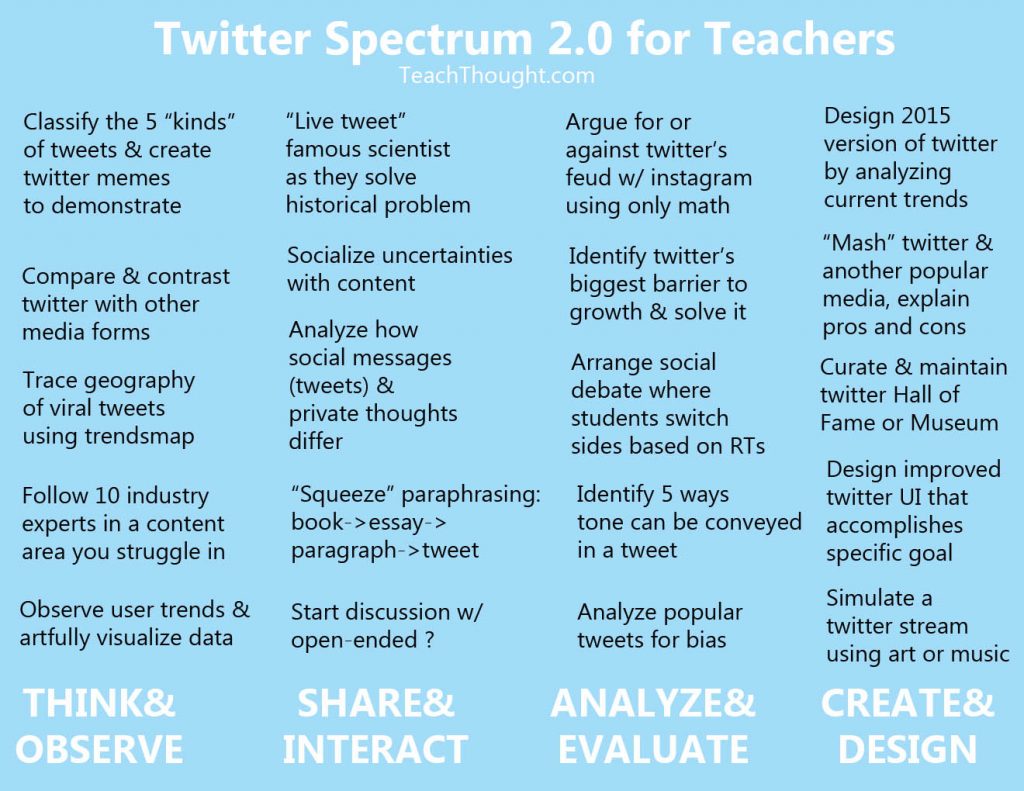 One of the challenges as a serial Tweeter (in the educational space) is to find links to content that add value to my own practice and that may also be of use to others.
I re-tweeted the above graphic via Paul McGuire a teacher from Canada. The graphic is from TeachThought and was first posted in December 2012.
I added the word Excellent and very quickly I noticed my edited re-tweet, was getting a lot of likes and further re-tweets.
Now, why did I like this chart enough to suggest it is excellent? The answer is somewhat contextual, in that I am using Twitter at the moment in one of my own history classes. Students are using a  class Twitter-account to complete an end-of-year assignment, for the subject History.
Their work is fine, but I was trying to figure out ways of making the students (next years class!) work harder, in the online space.
The topic I had chosen for the current group (Germany 1933-1939) is media rich. Next year I will take a local history project with little published data so that the students are challenged to create, rather than just use readily accessible information. I therefore related to the Create and Design section from the TeachThought Twitter Spectrum above.
The OECD and PISA's Andreas Schleicher spoke on Ireland's national radio, last week (here). about applying knowledge creatively, to solve novel problems. Last week also saw Dr Jim Gleeson, Professor of Curriculum and Identity at Australian Catholic University write of teachers, in the Irish Independent (here) as "facilitators of learning who support and acknowledge student achievement and diagnose learning difficulties."
It is important that teachers hear supportive voices as they seek to find ways to recreate teaching and learning for their students.
Lots to Tweet about! Any comments?
Thanks to David Clarke for bringing the Schleicher and the Gleeson links to my attention.